Survey on a week of distance learning after Easter: the outcomes
Written by Natalia Karpenko, Coordinator of the Communications working group and Giles Houghton-Clarke, President of the Board
The APEEE has received many emails from parents on this topic. To assess the views across the parent community we launched a survey last week. A total of 1759 people participated, evenly divided between Maternelle + Primary and Secondary parents.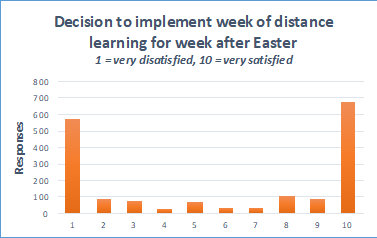 Parents were asked to choose between a score of 1 (very dissatisfied) and 10 (very satisfied) with the decision to implement Distance learning for all pupils in the week after the Easter break.
Views are quite polarised, with 33% selecting 'very dissatisfied' and 38% 'very satisfied'. The rest of the results were evenly spread in between.
Views are correlated with school level, with parents of pupils in Maternelle being more opposed and secondary being more in favour.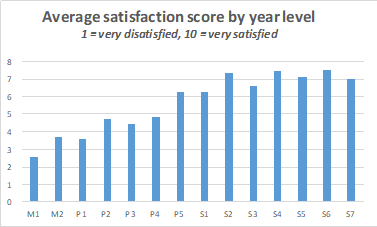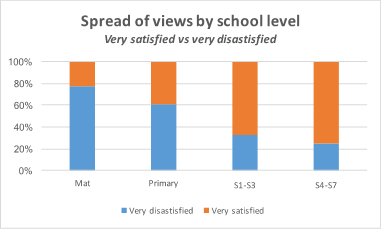 We received many comments from parents which have been sorted into key categories, as listed below. The numbers in brackets refer to the frequency of mentions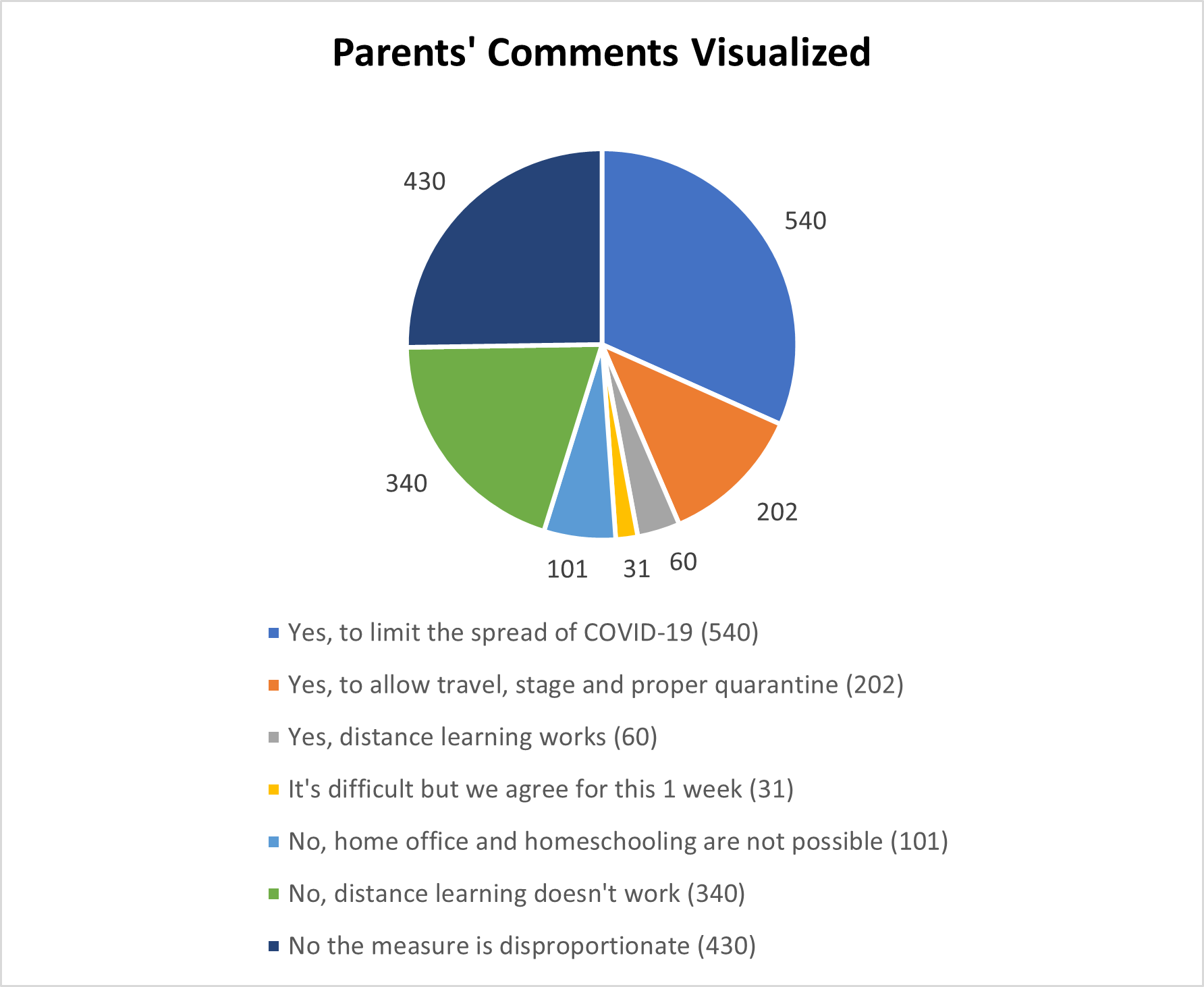 Reasons for being opposed to this week of Distance learning
The measure is disproportionate (quarantine for all while few will travel), encourages travelling and enrolling to stages outside the school bubble and not necessary in view of the travel ban. Gives EU a bad image (430).
In situ learning is the preferred method of teaching in school and should be implemented whenever possible (340)

Psychological welfare and social and physical needs of children are neglected while remaining at home
Online schooling does not work for the younger children (not enough actual teaching, as expressed by some), also for physiological reasons (eye problems)
Already too many weeks of Distance Learning which disrupts learning rhythm and causes stress
Children have trouble following or staying motivated, in all cycles
Need to study for the BAC
Distance Learning doesn't work for kids with learning difficulties

Difficult to combine working obligations with assisting children during home schooling (e.g. single parents, several children, nursery/primary children, full-time working parents) or lack of devices/ bandwidth to cover the family's needs in Distance Learning (101)
Reasons for supporting this week of Distance learning
Limit the spread of Covid and a possible risk of a complete lockdown (540)
The measure allows for essential travel and family visits and a proper (forced) quarantine after vacation (travelling and stages) (202)
Online schooling (for a limited period) works, DL and/or rotation system should be preserved probably even longer (60)
Other points made
It is very difficult to combine teleworking and assistance with e-learning but if it is necessary to keep the infection rates down it's ok (15)
Distance learning is ok for 1 week but not longer, 100% in situ schooling as soon as possible (16)
Further steps 
The results of the survey will be presented to the school director Ms Kamila Malik as well as to the Deputy Directors of Nursery/Primary and Secondary cycles. The survey has revealed quite different views for the measure introduced by the school but it has also highlighted problems with the effectiveness of distance learning, especially for nursery and primary students, along with other issues mentioned in the comments. We thank you for your feedback and will take it up in our further work.
Thank you for reading !
Ce site utilise des cookies pour améliorer votre expérience. Nous supposons que vous êtes d'accord avec cela, mais vous pouvez refuser si vous le souhaitez. Accepter En savoir plus